Sculpture Gallery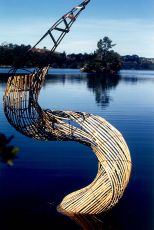 Do you have a spot in the garden where you would like an interesting focal point? Or perhaps in the foyer of you building?
I love creating sculptural works and, in a similar manner to designing a garden, I would listen to your ideas, produce some concept drawings and then organise the bulding of the sculpture for you.
Most of the pieces are designed to work in an outdoor environment. I love kinetic sculptures in particular harnessing the wind to make the object move or rotate.
You can see a sample of my works below and some of them are available for sale.
If you have an idea that you would like to be brought to fruition, give me a call.